A 1962 Perspective on Pump Mechanical Seal Failures
This month's Service Tip comes to us from the past. Appearing in the January 1962 edition of "The Suburban Contractor",  Zaven (Ziggy) Margossian shares his thoughts on pump mechanical seal failures in hydronic systems:
 The Suburban Contractor Article print 1962
Even though this article was written over 50 years ago, the lesson is the same. Of the failures Ziggy discusses, pH and TDS (Total Dissolved Solids) continue to be an ongoing issue with premature seal failures. If you see this on your bearing assembly, this is a good indicator of High pH and High TDS in your system water.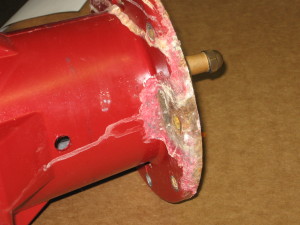 Did you know you can request a free TDS/pH test when you buy a replacement seal? Just contact the R. L. Deppmann Customer Service Department to find out how to submit a sample for a free pH and TDS test on your hydronic system fluid.
Fun Fact: Zaven (Ziggy) Margossian was employed at the R.L. Deppmann Company from 1958-1996, serving as 
president from 1971 until 1989.