---
Your Road to Success Starts at R.L. Deppmann!
You too can be a part of a growing company that promotes personal success and career satisfaction. We pride ourselves on our engineering and mechanical backgrounds and our commitment to share our knowledge with our customers.
R.L. Deppmann offers career opportunities in the following areas:
---
Outside Sales
New Construction
Startup & Warranty
Inside Service
Engineering
Estimation
Purchasing
Accounting
Aftermarket
Customer Service
Warehouse
Administration
---
Working at Deppmann
Work for a company where you can make a difference daily. Deppmann is 100% employee owned, which means we work together to make the company successful.
Select a topic below to hear more about working at Deppmann firsthand from our team!
---
Our Core Values
Our Purpose is Helping People Make Better Decisions. The Core Values that define our Culture are Knowledge, Empowerment & Responsiveness.
Knowledge: We are avid learners who take every opportunity to teach.
Empowerment: We are entrusted to take personal ownership and make sound decisions.
Responsiveness: We exceed expectations in how we interact with customers, suppliers and fellow employees.
---
Company Culture
At R.L. Deppmann we are proud of our internal community across all office branches & departments. We are an employee-owned company with a family-owned atmosphere. We take time to celebrate the little things such as MLB opening day, bring your child to work day, Halloween pumpkin carving contests, employee birthdays, as well as larger holiday events throughout the year. Our bi-annual company party brings all employees & family members together for a weekend long celebration.
Deppmann also takes time to give back to the communities we live and work in through community engagement programs.
---
Career Paths
Our goal to promote our employees from within entails an annual professional development conversation with your manager to determine your career path within R.L. Deppmann. Participate in regular offsite department meetings where you and your peers from all branches meet to exchange ideas and experiences. Experience the benefit of having one-on-one meetings with your manager to discuss roadblocks and goals.
We invest in our employees for continued growth and long-term career opportunities. Employee training consists of onsite factory training, in-person seminars, webinars, & online training courses. We are proud that many of our employees have spent a majority of their careers at R. L. Deppmann.
---
Enjoy all the benefits and perks R.L. Deppmann has to offer
R.L. Deppmann offers an impressive compensation and benefits package that includes premium free health insurance, life insurance, and disability. We offer a measurable performance compensation plan and a generous 401(k) match plan.
Benefits Package
Medical, Dental, Vision, and Prescription coverage
401(k) Profit Sharing Plan
Employee Stock Ownership Trust (ESOT)
Basic Life Insurance and Accidental Death
Short & Long Term Disability
Flexible Spending Account, Health Saving Account, and Dependent Care
Tuition Reimbursement
Paid Time Off
---
We're proud of our core values, company culture, career path & benefits package - and our team is too! For the past four years, R.L. Deppmann has been named aTop Workplace by the Detroit Free Press.
---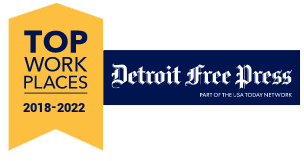 Launch Your Career at R.L. Deppmann
---
Don't see your desired role listed in Open Positions? We are always looking for great people to grow our successful team! Apply now and be sure to note your areas of interest on the application.
---
---
---