Introducing Bock Water Heaters "nDurance" Point of Use Water Heaters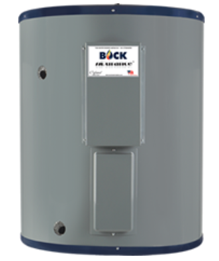 R.L. Deppmann is pleased share the following product announcement from Bock Water Heaters.
Announcing nDurance point of use commercial water heaters
The nDurance Light Commercial Electric water heater product – built for long term nDurance – is now available for immediate sale.
Key features include:
Robust thick-gauge steel tank construction
Glass fused-to-steel tank interior
Dual anode rods for double protection against corrosion
Zinc-plated copper sheath elements designed to minimize scale build up
Five Year Warranty
135ºF to 180ºF adjustable temp control (125ºF to 170ºF range for single element models)
Meets or exceed ASHRAE 90.1
Factory Installed Temperature & Pressure Valve
Available in sizes ranging from six-gallons to fifty-gallons, these water heaters enjoy Bock's traditional robust construction and exceptional quality.
www.bockwaterheaters.com for additional info.