Congratulations to Richard Tharp on His Retirement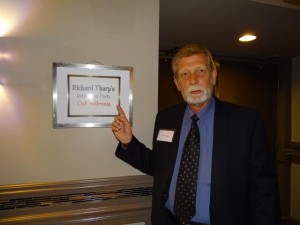 After 43 wonderful years with the R.L. Deppmann Company, Richard (Dick) Tharp has retired. Dick has been an incredible asset to the company since his graduation from Wayne State University in 1972 and has experience working in sales and customer service. In his 43 years with Deppmann, Richard has seen many changes in not only the company but in the industry as well; and with this comes an irreplaceable amount of knowledge and experience. Whether you had a question on a system built in the 70's or were searching for a part number that no one else had heard of; Dick was the man with the answer. Our customer service team is well staffed and ready to assist but Dick's knowledge and mentoring help is something that will be truly missed.
On Saturday, November 7th the R.L. Deppmann Co. bid farewell to Dick at Laurel Manor in Livonia. Years and years of memories were recalled among co-workers (present and past), friends, family and Dick's beloved customers. Thank you to everybody who helped to make this evening memorable. Congratulations, Dick!