Unhide Makeup Water Leaks in Hydronic Systems

The automatic cold water or glycol makeup assembly in a hydronic system is critical to air removal and maintaining proper pressure in closed hydronic systems. Most water is made up due to isolated events such as service of a product or removal of air. Occasionally water is introduced due to a small leak somewhere in the system. Over time this leak will cause issues which are hidden from the owner or contractor.

R. L. Deppmann Company is recommending a solution that is simple and quick for engineers to add to their standards. The solution is also very cost-effective for the owner.
Add a Badger Water Meter to the Makeup Assembly
Take a look at this brief five minute video that explains the value of adding a Badger M25 1/2″ or 3/4″ water meter to all of your standard makeup assembly details.
Simple to Detail
The project detail is very simple.
Show a water meter symbol in the makeup and indicate either 1/2″ or 3/4″ to read low flows. No pipe diameters are required in before or after the meter.
Determine whether you will require the owner to manually read it every month or tie to the Building Management System. If you tie to the BMS, you may indicate whether the signal will be 4-20mA or pulse output. Pulse is simply a single pulse per gallon of makeup and the BMS can add duration. Alarm if the makeup is greater than one gallon per (your choice), but a day is a good place to start.
Indicate who will provide and install the meter.
Show the BMS connection in the control drawings.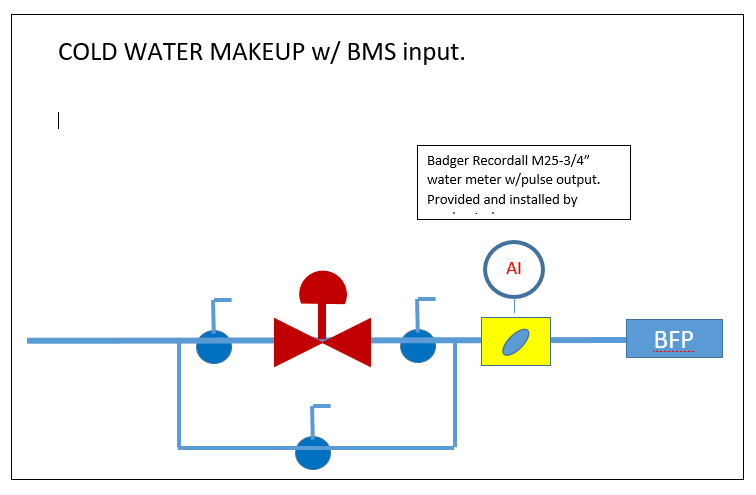 Simple to Specify
The specification may be as simple as the note on the detail above. If it is supplied by the mechanical, it can be listed under section 200519: gauges, thermometers, and flow meters. If it is to be supplied by the controls contractor, specify in the 230900 section where appropriate.
The specification can be long or short. We included only one name to take advantage of the low flow reading of the Badger Recordall. Having one name should not present an issue since the product is available from many sources and the internet. Here is a sample specification.
Spec section 230519 Gauges, Thermometers, and Flow Meters
Add this numbering depending on your specification.
2.6 Closed System Makeup Water Meters
Manufacturer

Badger Meter Recordall M25 (Available from R L Deppmann Company or others).

Nutating Disc Water Meter

Flow accuracy of 1.5% from 1/2 GPM to 20 GPM. Below this range, the meter shall be capable of measuring water use down to a leak rate of 1/32 GPM.
Maximum working pressure of 150 PSIG at 120°F.
Valve body shall be low lead bronze complying with the lead-free provisions of the Safe Drinking Water Act; are certified to NSF/ANSI Standards 61 and 372.
To simplify maintenance, the register, measuring chamber, and strainer shall be replaced without removing the meter housing from the installation.
Include a non-resettable totalizer in gallons for local readout.
If an analog output (AI) is indicated on the plans, provide both local readout and a 4-20mA or pulse output at 1 gallon per pulse for BMS. Pulse rate and span shall be field reprogrammable.
3.1 Execution Installation
Makeup water meter supplied and installed by a mechanical contractor and wired (if indicated) by temperature control contractor. 
NOTE: If the AI option is used, the power supply and pulse output wiring should be shown on the temperature controls drawings.
We hope you will help all of your clients unhide their closed system makeup water leaks using the Badger Recordall M25 water meter.
Next week the R. L. Deppmann Monday Morning Minutes returns to our short series on HVAC variable speed pump control.