A Friend Lost and the Lesson We're Sharing in His Memory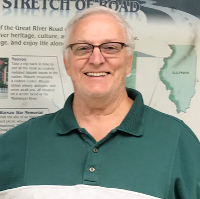 We are saddened to share that our friend and past R.L. Deppmann employee, Chuck Kaiser, was lost while hiking in the Wyoming Rockies. After extensive search efforts, Chuck is presumed dead. In this Monday Morning Minutes, the Deppmann family is honoring Chuck by sharing some life saving tips in the hope that his story can save a life.

Charles Kaiser worked at R. L. Deppmann for eight years until 2007. He was an estimator in the plan and specification department. When he left RLD, Chuck worked at a couple of Detroit area representatives until his retirement in 2013.
Lost in the Wyoming Rockies
On September 27th, 2022, Chuck was hiking the short trail to the Blue Ridge Fire Lookout near Lander, Wyoming alone. He did not wait for his hiking partner who was packing gear in a backpack. Just a half hour later his friend reached the trail end and was looking for Chuck. Chuck was nowhere to be found. Intense yelling and emergency whistles found no response from Chuck.
The Fremont County Sheriff's department and the local Search and Rescue (SAR) immediately responded to the friend's call for help. Within a couple of hours there was a SAR Headquarters trailer, provisions trailer, a meeting trailer, and forty volunteers already out looking for Chuck. The response from the leaders of the search was immense. The searching was done by a variety of people, including campers, hunters, college students, police, army personnel, and a wide variety of professional search and rescue people, both paid, and volunteers. The volunteers and the search dogs came from Montana, Colorado, and Utah, as well as, from throughout the state of Wyoming. There were well over two hundred people, both paid and volunteers, in the first five days.
When I heard Chuck was missing, I immediately flew out to the search site. Here are three things I learned from the search leaders during this horrible tragedy. I hope that you will share this lifesaving information with your family and friends.
Here are a couple of links sent out by local sources. Hiker, 73, missing near Lander (trib.com)
Missing hiker reported above Lander – County 10™
Our friend and past RLD estimator is presumed dead but the recovery efforts will remain active.
Things I Learned That May Save Your Life
Here are a few things I did not know until I was involved with the SAR personnel while looking for Chuck Kaiser.
Call 911 or push SOS on your phone. A 911 call may go through an available cell tower even if the signal is weak. Once the 911 is received, it immediately activates location tracking via GPS or global positioning satellites. In the case of western Wyoming, the cell service is still 3G and the towers are far apart. The signal from his cell phone, when it had a signal, was weak and did not have enough towers for a location short of several square miles. I used to think of 911 as something only used if there was a crime. fire, or a medical emergency. We know Chuck did get a weak signal a time or two. When Chuck had any service at all, 911 should have been his choice. The 911 GPS would have located him within a few feet.
Share your location with friends: I share my location with my family using the "Find My" app on my iPhone. I did not think to share it with my friends when we are traveling on a trip, vacation, or hiking. The location services may be spotty, but Chuck's friend could have shared his cell phone access with the sheriff in the local town where there was continuous 3G service. Chuck would see the location when he had spotty service and, more importantly, the rescue team would see him. It is also advisable to stick together in teams when hiking in new areas.
Look into a Hiking App that Uses GPS: As a result of this sad experience, I have learned about the many smartphone applications that offer maps and GPS conductivity for hiking trails around the world. These can download a map of the trails and area, so you do not need a cell tower to use them. Although basic service may be free, for a small price which, for many, can be cancelled when not being used, you get to download the maps. This will allow you to see your tracks via GPS on your phone. If you see the tracks, or breadcrumbs, you can also go back to where you started. I have not used these apps yet, but I will. I have no financial interest in one or another but the three I have checked out are: Cairns, Alltrails, and GAIA GPS. There are dozens more for your research.
Always Carry Emergency Supplies: This one is hard to imagine. The Boy Scouts and Explorers and Order of the Arrow taught me to "Be Prepared." However, this was to be a simple and short walk – a little over ½ mile trek to a lookout spot about 400 feet up. I am not sure I would have put on my pack for what seemed to be a leisurely walk. Chuck's friend was delayed because he was getting ready with supplies. A manual compass, map, matches, fire starter, a reflective mirror, a whistle, a first aid kit, some warm clothes, some water, a space blanket, and even a spare phone battery – any of which may have made a difference. Going forward, I will make sure to bring a backpack if I am in an area that I am not familiar with.
If you so believe, regardless of religion or faith, please say a prayer for Chuck and his family. Add another prayer for you and your family's safety. If you have time, I can use your prayers also – Chuck will be deeply missed.
Next week, I will continue with part 11 of the 12-part series on Heat Pump Water Heaters.